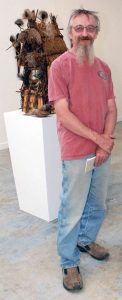 Randy McWebb was born in North Bay, On in 1958 He was individually selected in 1975 to attend the special arts program at H. B. Beal S. S. completing his Program, He completed the Fine art Program at Fanshawe College, 1979-82 and later went onto complete the Landscape Design Program at Fanshawe College 1992-95.
His work draws inspiration from tribal/primitive man and their spiritual beliefs and imagery on the treatment of Birth-Coming of Age – Death and Renewal.
Working with material hunted and gathered from nature, he created large burial installations that surrounded the visitor. Entrance into the interior evoked birth, the inner experience the coming of age and exiting death/rebirth. Through the viewers participation, his installations involved the senses, awoke dormant primal values and awareness of self. He then went onto outdoor installations where they were surrendered to nature to change with the seasons.
After the installation phase 1982-1990 he went onto creating sculptures of totems/trophies, offerings/gifts, spiritual guardians and spirit animals. These are sculptures you might find in a primitive burial or tomb, that relate to the after life. All are made from materials rescued from nature and must have had a previous life, all are intricately carved with a lot of articulation of surface and all-over similar treatment of form and much content (death & transformation).
These are not specific to any particular culture but are unique unto himself and to the object he has chosen to be his focal point. He believes that in todays technical age, that one must not forget our primal self and values and that we must find a balance.
Photo credit: Jim Poole